JK Rentals provides a wide range of tables to rent. Customize any event with our rectangular banquet and conference tables, round tables, cabaret tables and more. Not only do we provide tables for seating, we also provide bars for serving. JK Rentals will provide, deliver and set up your table rentals at your exact location; otherwise, table rentals are also available at a reduced customer pick up/return pricing.
Banquet Tables
Our banquet tables are a popular choice due to their easy set up and wide range of sizes and placement options. Whether you want to place our banquet tables in a row for a buffet line or in multiple rows for cafeteria-style seating, these tables are the most versatile and widely used. Our banquet tables come in three standards sizes of 4, 6, or 8 feet long all measuring 30 inches wide. These tables also sit about 30 inches from the floor. For more intimate events, we do recommend seating the minimum number of adults at each table size; respectively.
Round Tables
JK Rentals provides a variety of round tables which are a great choice for more intimate events. Whether you are hosting a corporate event or wedding, these round tables provide easier movement throughout the tent, which is great for encouraging inter-table socializing. We offer round tables in sizes to accommodate anywhere from 6 to 10 adult guests per table. Use the guide below for seating information. For more intimate events, we do recommend seating the minimum number of adults at each table size; respectively.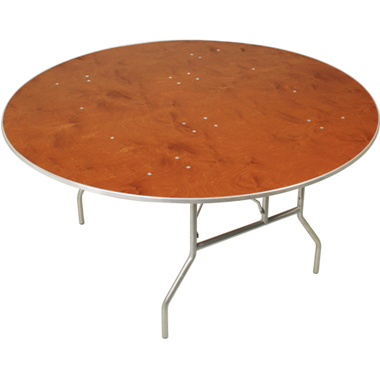 Cabaret Tables
JK Rentals provides smaller round cabaret tables for your world class event. Used in weddings and other events such as festivals or outdoor parties, your guests will have a place to enjoy a drink or converse with others. The small size of these cabaret tables helps maximize the space around your bar and underneath the tent. We offer these tables in two heights – 30" for use with chairs and 42" for standing use only.
Conference Tables
If you are planning a corporate event, our conference tables will be suitable for your attendees. Much like the banquet tables, these conference tables are rectangular in shape, but are 24" in width rather than 30".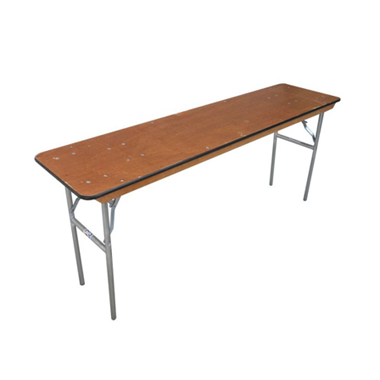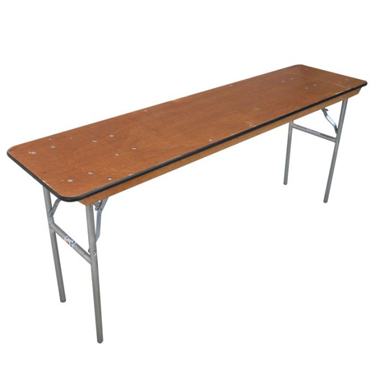 With all of our table rentals, we do offer linens to cover the table top. Linens may be used in more formal events such as weddings or corporate parties. For more information on the linens we provide, or other questions about our table rentals, please feel free to contact us today!